The Denver Marijuana Scene
Hey Colorado -
We are the first state in the Nation
To have a PBS Station play the Hemp Documentary
Its about Jack Herer and the movement to legalize the Plant.
PBS Channel 12 - KBDI
Friday, July 7th (2000) at 9 pm MDST
(Mountain Daylight Savings Time)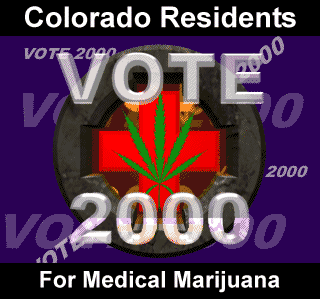 The First National Clinical Conference on Cannabis Therapeutics was held at the University of Iowa on April 7th and 8th. We received the satellite transmission here in Denver at the University of Health Sciences Center School of Nursing at the Dennison Auditorium. Other sites receiving this were the Oregon Health Division, Portland; University of Virginia Health System - Continuing Medical Education, Charlottesville; The University of Arkansas, ARDPArk, Little Rock; The University of Arkansas, ARDPArk, Fayetteville; Chemeketa Community College School of Nursing/Salem Hosiptal/SAIF, Salem, Oregon and the McGill University Health Centre, Montreal, Quebec, Canada.
It was my experience that the Medical community is waking up. Six medical doctors and 22 other professionals in the health field spoke about the studies being conducted to determine the applications, safety, effects and need for the medical cannabinoids as a medicine.
The "Patience Out of Time" (P.O.T.) Official Policy Statement reads as follows;

"The organization known as Patience Out of Time is a non-profit 501c corporation of the States of Virginia that shall lobby and educate all disciplines of the health care professionals; their specialty and professional organizations; and the public at large about medical Cannabis (marijuana).
Prior to the Marihuana Tax Act of 1937, marijuana was widely used by medical doctors in the United States for a variety of physical and emotional ailments. The U.S. government began a litany of "reefer madness" propaganda and police actions that are with us today. Coupled with the bureaucratic demands of the tax act, the practice of physicians prescribing cannabis for therapeutic purposes in such an environment became subject to great scrutiny and therefore unwise. Cannabis' therapeutic value was no longer taught in medical schools, it vanished from the pharmacopeia of the U.S., it became outlawed.
Patients Out of Time shall focus its powers to reinstitue Cannabis as a legitimate medicine for use within the United States. Cannabis, under modern research protocol, has been found to be effective in reducing intraocular pressure in glaucoma, reducing nausea and vomiting associated with chemotherapy, stimulating the appetite for persons living with AIDS and suffering from wasting syndrome, controlling spasticity associated with spinal cord injury and multiple sclerosis, reduction in the intensity of chronic pain, and controlling seizures associated with seizure disorders.
P.O.T. is seeking members of professional health care organizations or other social organizations who are willing to take the lead in urging their organization to formally support patient access to therapeutic Cannabis. P.O.T. will assist in providing educational tools and/or speakers in such efforts. P.O.T. will gratefully accept any donation to help in its efforts towards getting marijuana accessible to those who medically need it.
P.O.T. has no other interest, nor does the organization have any opinion, stated or unstated, about any issue other than therapeutic cannabis. All lobbying, educating, communication or any other endeavor of P.O.T. shall be limited to the sole subject Marijuana as Medicine."

In the mean time if you have any events or happenings to contribute please Email us

---
© Images and text are copyright protected. ALL rights reserved and may be reproduced by written consent only.
©1999-2006 by HighTouch. All rights remain in force.