Norway Is to be Second European Country to legalize Cannabis (2017)
In a momentous move for the country, Norway's parliament have voted to decriminalize all drugs, including cannabis.
The Scandinavian nation will be just the second country in Europe to follow such practices
and have looked to Portugal's decriminalization of drugs in 2001 as a demonstration of a success story.
The new law would offer treatment and assistance to those found with small quantities of drugs, rather than charging them as criminals.
Norway have a relatively low rate of drug users compared to other parts of Europe.
However, their figures still show an increase in the consumption of drugs, especially cannabis.
A 2017 report from the European Monitoring Centre for Drugs and Drug Addiction discovered
that around 8.6% of Norwegians aged 16-34 had used cannabis in the 12 months prior to survey.
Cannabis was also the most seized drug in the country over the last year.
However, once the law has been put into practice (which it hasn't been yet)
those holding and consuming drugs in small quantities will not be punished.

The Green Gold Rush is ON
The legal marijuana market is on fire after reaching $6.7 billion in revenue in 2016,
but that's nothing compared to the expected growth of this once-illicit pastime.
After seven U.S. states legalized some form of marijuana this past election 2017, the legal weed industry
is on track to achieve 25% growth year over year through 2021 - and reach a whopping $20.2 billion in sales.
To put that in perspective, we haven't seen growth comparable to this
since the boom of broadband internet and cable TV.
And the green gold rush is showing no sign of slowing down



If anyone tells you that marijuana is bad for you -
THEY'RE LYING THROUGH THEIR TEETH!
Comgratulations Colorado on this fine example of tenacity! Posted in The Denver Post October 8, 2013 page 11A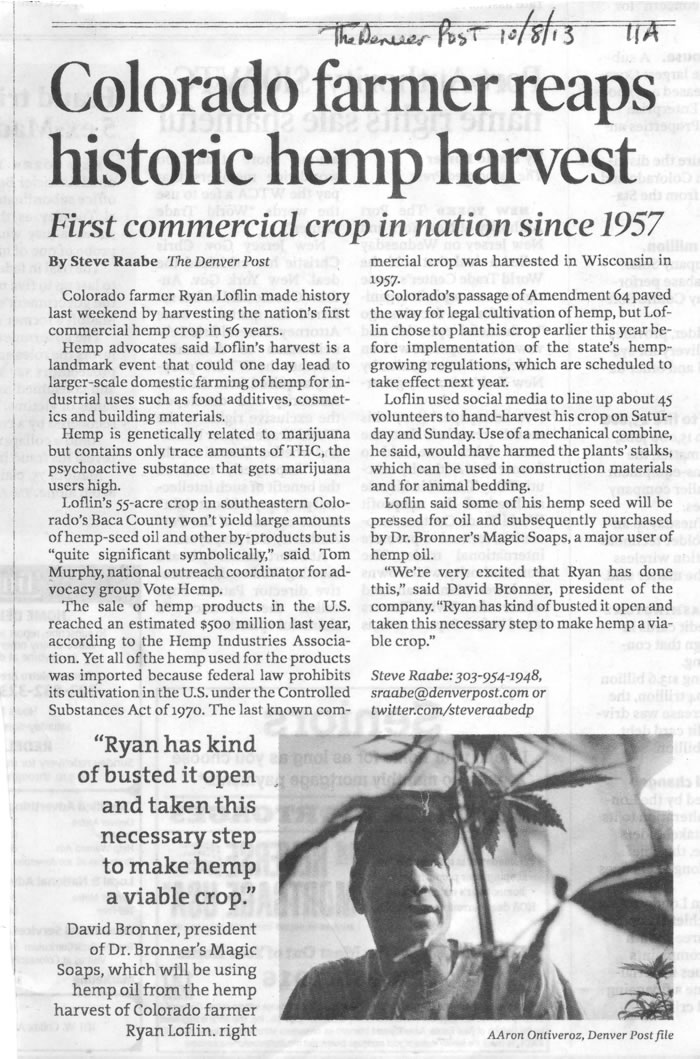 Congratulations to Illinois
for becoming the 20th state to embrace Medical Marijuana. Yay!
---
The DENVER POST 6/3/2011 pg. 13a
Global panel calls drug war a failure
By Edith M. Lederer
NEW YORK>> A high-level international panel slammed the war on drugs as a failure Thursday and called on governments to undertake experiments to decriminalize the use of drugs, especially marijuana, to undermine the power of organized crime.
Compiled by the Global Commission on Drug Policy, the report concludes that criminalization and repressive measures have failed with devestating consequences around the world.
"Political leaders and public figures should have the courage to articulate publicly what many of them ackowledge privately: that the evidence overwhelmingly demonstrates that represssive strategies will not solve the drug problem, and that the war on drugs has not, and cannot, be won, the report said.
The 19-member commission includes former presidents of Mexico, Brazil and Columbia, Greece's prime minister, former U.N. Secretary General Kofi Annan, former U.S. officials George Schultz and Paul Volcker, and British billionaire Richard Branson. The commission urged governments to experiment "with models of legal regulation of drugs to undermine the power of organized crime and safeguard the health and security of their citizens." It said this recommendation applies especially to marijuana.

---
The DENVER POST 6/9/2011 pg 10a
Reports: The White House can't show money spent in drug war helps
WASHINGTON>> The Obama administration is unable to show that the billions of dollars spent in the war on drugs have significantly stemmed the flow of illegal narcotics into the U.S., according to two govermnet reports and outside experts.
The reports specifically criticize the growing use of U.S. contractors, which were paid more that $3 billion to train local prosecutors and police, to help eradicate fields of coca, operate survaillance equipment and otherwise battle the widening drug trade in Latin America in the past five years.
"We are wasting tax dollars and throwing money at a prblem without even knowing what we are getting in return," said Senator Claire McCaskill, D-Mo., who chairs the Senate subcommittee that wrote one of the reports, which was released Wednesday.
Administration officials strongly deny that U.S. efforts have failed to reduce production or smuggling.
Tribune Co, Washington Bureau
---

Johnny "Marijuana" Seed; a legend whose time has come.

Thanks to our Constitutional Rights and the miracle of the web...
we can expand our "grassroots" movement and do our part locally
to spread the word... spread the seed... and, imagine the harvest!


We must get Congress to decriminalize marijuana
and stop perpetuating this gangland style hoodlum attitude
about a plant that has no business being a "controlled substance".





Images and text are copyright protected.
ALL rights reserved and may be reproduced by written consent only.
©1999 - 2017 by HighTouch, LLC. All rights remain in force.